Making the dream of homeownership a reality in Lake County
Thank you for your interest in Habitat Lake County's Homeownership Program! We believe that everyone deserves a safe, affordable place to call home—our homeownership program helps make this a reality for more people in our community.
Interested applicants are required to attend an informational meeting prior to receiving an application. Check back soon for more details for the next informational session date!
Questions? Please see a high-level overview of our application and approval process below:
Scroll down to the FAQ section to get answers to some of the most common questions about enrolling in our homeownership program. If you still have questions, reach out to us at

[email protected]

.
Your application will be evaluated based on three main areas:
Need: Current housing is substandard or inadequate (overcrowded, unsafe, or unaffordable), accessibility is needed, or family income is insufficient to afford a conventional mortgage.
Ability to Pay: Secure employment, good credit, legal residency, and able to make affordable mortgage payments. Additionally, household income must meet the HUD income guidelines for household size (50-80% of the area median income).
Willingness to Partner: Family agrees to contribute Sweat Equity with Habitat team members and our volunteers for at least 500 hours of building Habitat homes, working in our ReStore, and completing 40 weekly financial education classes, monthly budgeting sessions & other homeowner education classes.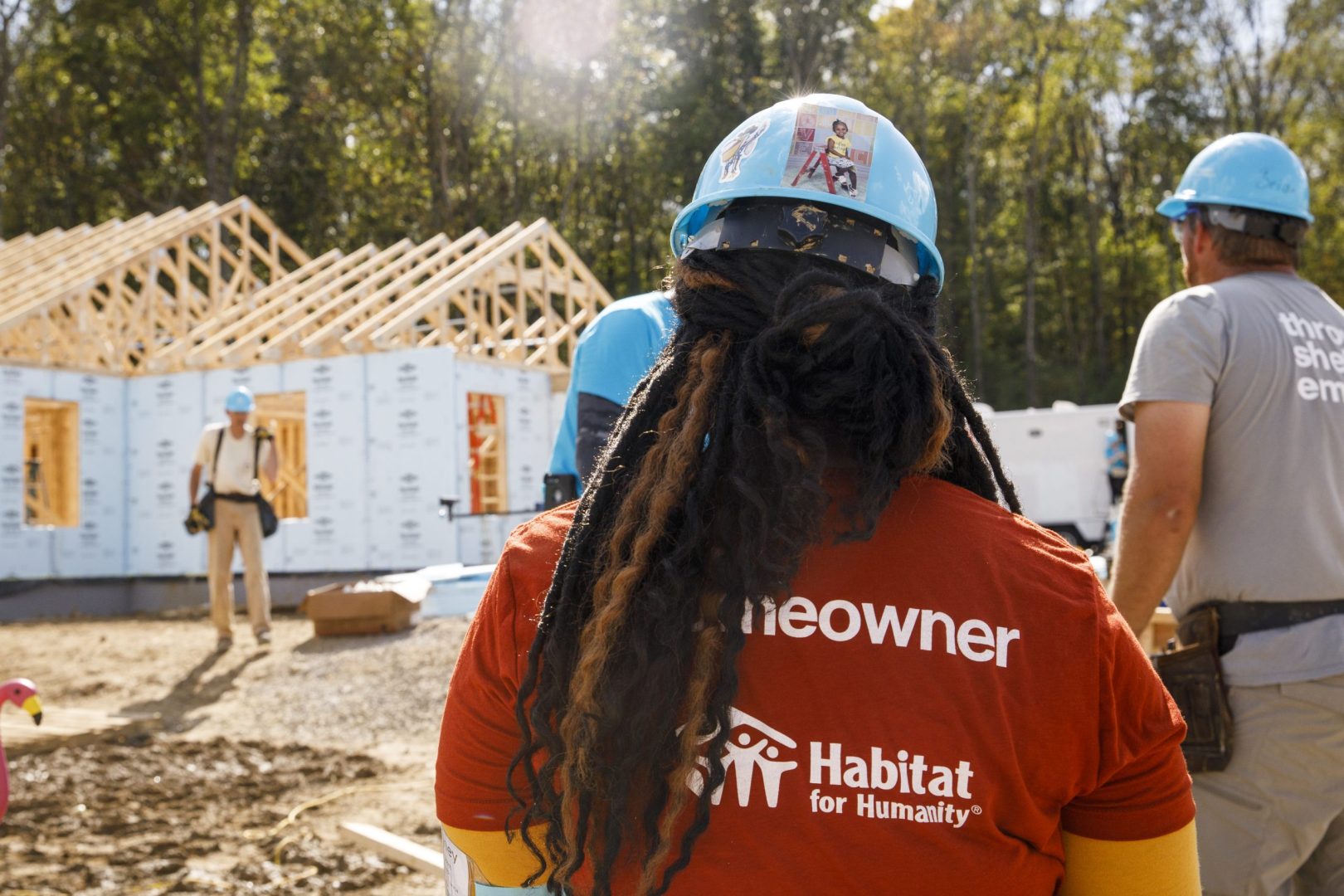 Applications will be reviewed after informational sessions, which will take place every April and September. If you qualify, the Family Services Committee will schedule a virtual home visit and interview within 30 days. At this time, we will verify:

Willingness to partner with Habitat

Ability to pay an affordable mortgage
Frequently Asked Questions
Households are required to invest 500 hours of sweat equity hours working on their future home or the homes of other Habitat families or volunteering at the Habitat ReStore or in the office. Financial education classes, monthly budgeting sessions, and other homeowner education classes will also be counted toward Sweat Equity hours. Families work in partnership with Habitat's trained site staff and work side-by-side with other volunteers.
Yes! While we prefer that the majority of hours are completed by members of the family who will be living in the home in order to develop a sense of pride in homeownership and learn how to be successful homeowners, we recognize that this is a big commitment and do allow support from outside of your immediate household. Please remember that Sweat Equity provides an important opportunity for building community with other partner families, Habitat staff, and volunteers!
Yes. In order to qualify for the Habitat homeownership program, your household income must be at or below 80% of Area Medium Income (AMI) as established by the U.S. Department of Housing and Urban Development (HUD).
The 2022 Income Guidelines are:
| | |
| --- | --- |
| Family Size | Maximum Household Income (80% of AMI) |
| 1 | $58,350 |
| 2 | $66,700 |
| 3 | $75,050 |
| 4 | $83,350 |
| 5 | $90,050 |
| 6 | $96,700 |
| 7 | $103,400 |
| 8 | $110,050 |
Unfortunately, we are unable to accommodate location requests. The Homeowner Selection Committee will ask for your household's preference, but will ultimately choose families for a particular house based on your family's size and the availability of homes at the time when you are selected as a partner family.
No. Habitat requires that you live in your home. You cannot rent out the home or move out and let others live there instead.
As long as the residence serves as your primary residence, you may also run a business out of your home.
Not necessarily. We encourage you to communicate with us during periods of financial difficulty, and we will do our best to work together and find a sustainable solution.
Absolutely. We encourage you to reapply if your circumstances have changed.
Yes. Habitat's classes are required for all program participants because our classes cover a wide range of topics, some of which are specific to our program. Because these classes are only offered to Habitat families, it's also an opportunity for you to connect with fellow Habitat homeowners.
We want to hear from you. Don't hesitate to email our Family Services Department with any further questions at: [email protected]
Thank you for your interest in partnering with us!